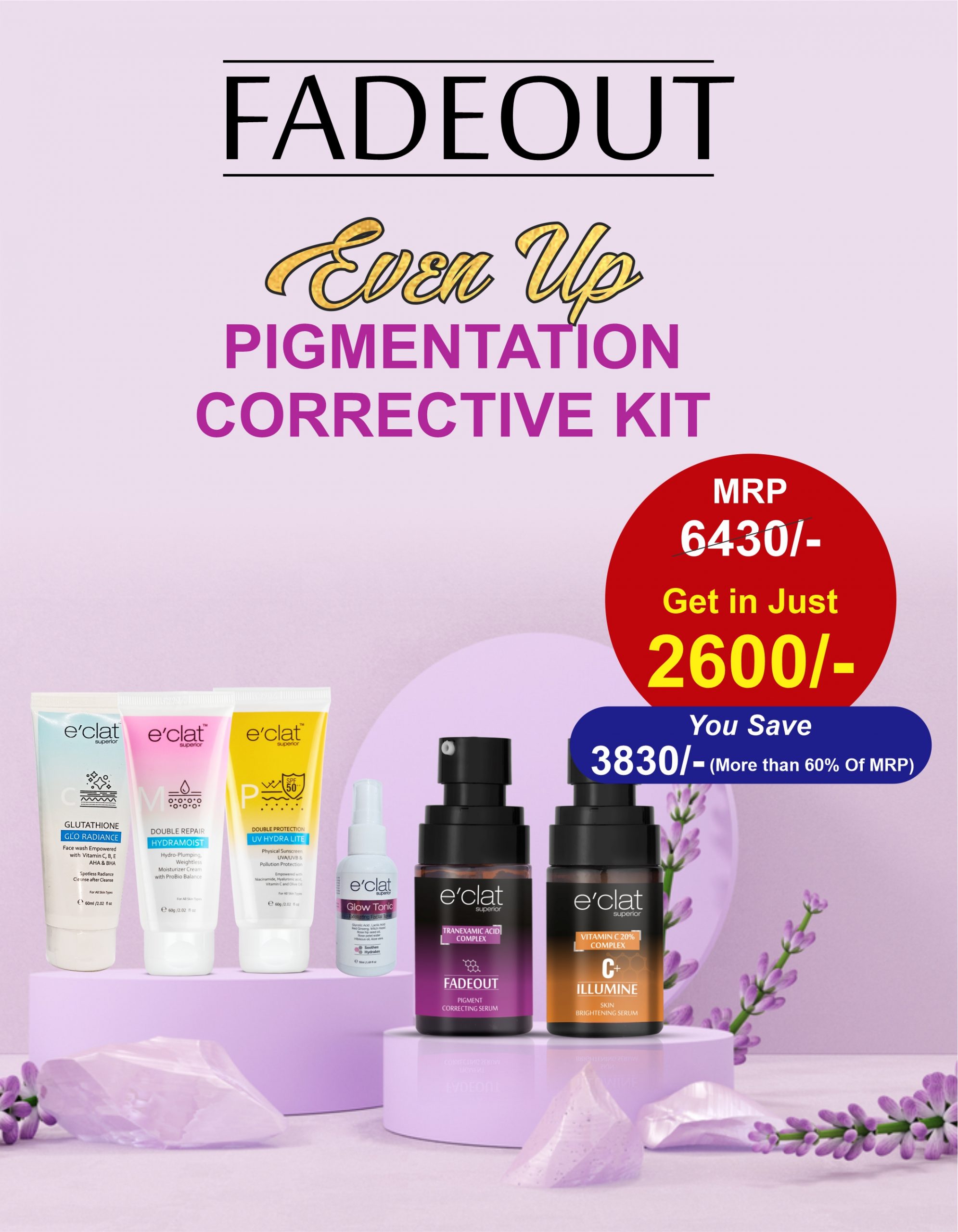 Even Up Pigmentation Corrective Kit
MRP (INCLUSIVE OF ALL TAX)
Description
BENEFITS
Skincare Secrets: The best way to deal Hyperpigmentation and Melasma.
Having a crystal clear complexion is the holy grail of beauty.
Dark spots, sunspots, melasma hyperpigmentation – whatever you call it, excess pigmentation on your skin is never fun to deal with, and can oftentimes be a huge point of concern for many people.
What Is Hyperpigmentation?
Hyperpigmentation isn't necessarily a condition but a term that describes skin that appears darker due to higher Melanin production.
How to Get Rid of Hyperpigmentation?
Diet For Hyperpigmentation: All Your Questions Answered.
You are what you eat. That's a famous adage in the world of nutrition. Is it also true for your skin? Can diet affect your skin and influence the appearance of melasma, sunspots, or acne marks? These are questions that many people with hyperpigmentation conditions ask.
Does Diet Affect Skin Health?
Let's start with the basics: "Does diet affect skin health?" The answer is yes. Your skin is considered the largest organ in your body for a good reason – it covers up all the rest of you. When you eat, a sizable amount of nutrients goes towards nourishing your skin cells. What this means is if you put low-nutrient foods in your body, your skin gets low-nutrient resources for growth and repair. Similarly, high-nutrient foods rich in vitamins, zinc, calcium, magnesium, manganese, and other vital nutrients give your skin high-quality resources to work with. So, yes, your diet plays a significant role in your skin health.
What Is A Healthy Diet For Clear Skin?
A healthy diet for clear skin is one that's full of skin-healthy nutrients. Clear skin is made up of healthy, elastic, and vibrant skin cells. For cells to get this way, they need a constant source of high-quality nutrients. If you maintain a poor-nutrient diet, your skin cells will soon get starved and start to appear dull, aged, and non-vibrant. Some of the best foods for clear skin are green vegetables like kale and spinach, oily fish like salmon, strawberries, broccoli and citrus fruits rich in vitamin C.
What Diet Promotes Overall Healthy Skin?
In general, eating a balanced diet should help promote overall skin health. However, this is only good for maintaining already-healthy skin. If you need to improve the health of your skin, you will need to eat a more skin-healthy diet.
Water: Drinking enough water flushes out toxins (including free radicals) from your cells, including your skin cells. It also helps keep your cells hydrated, so they can easily resist the effects of sun exposure.
Meditation does wonder for your skin
Chronic stress can be deeply disruptive to our sleep cycle, digestive process, inflammatory response, and other delicately balanced internal systems that keep us happy and healthy.
Meditation addresses the underlying issues that create skin problems in the first place. An emerging field of research called psychodermatology studies the interaction between mind and skin, looking at the effects of emotions on the skin as well as disorders that have skin manifestations. By bridging the gap between our emotional and mental states with our overall health, meditation has many benefits.
Superficial hyperpigmentation can be easily treated with a dedicated daily skincare routine.
Cleanser, Exfoliator, Serum and Sunscreen can help brighten and even your skin, minimizing the appearance of hyperpigmentation.
Cleanse
First, prep your skin with a facial cleanser that contains lightening ingredients such as vitamin c, glutathione, licorice or lactic acid.
Exfoliate
Next, gently exfoliate your skin with a light facial scrub, brush or washcloth to remove dead skin cells. If you don't remove those dead skin cells, they could potentially block the treatment products that you will apply next from penetrating your skin and being effective.
While exfoliation can be an excellent way to promote softer, smoother skin in your weekly or bi-weekly skincare regimen, it can also have a positive effect on hyperpigmentation.
You can also add daily exfoliating toner to your skincare
Treat
After you exfoliate, apply a serum for treating that contains active skin brightening ingredients. This serum must be scientifically designed to treat hyperpigmentation.
Moisturize & Protect
Finally, be sure to use a broad-spectrum sunscreen on your face, neck, chest and hands every single day – even if you work indoors. There are sunscreens available that double as facial moisturizers, and come in formulations that are appropriate for normal/dry and oily skin types.
Sunscreen can prevent the darkening of current hyperpigmentation, as well as prevent future pigmentation from occurring, so it is essential that you use sunscreen whenever you are using any skin brightening products. If you don't use sunscreen in conjunction with skin brightening products, you run the risk of making the dark spots you want to disappear even darker.
Why e'clat superior fadeout is No. 1 Choice of skin experts to treat hyperpigmentation?
e'clat superior fadeout out is a scientific blend of 4-n-butylresorcinol with AzelaicAcid, Tranexamic Acid, Niacinamide, Licorice and Phytic Acid.
Clinical studies reveal these ingredients are proven to treat Hyperpigmentation without any side-effect.
e'clat superior Fadeout reduces the production of Melanin (Responsible for Pigmentation) deep inside the skin, lightening the pigmented marks & helping speed up recovery to achieve flawless crystal clear complexion.
Did you know?
e'clat superior is the most featured skincare brand and winner of Maximum Awards in Skincare 20-21. Due to its Most Innovative, Promising, and Transformative range Dermatologists and Skinfluencers are huge fans of it.