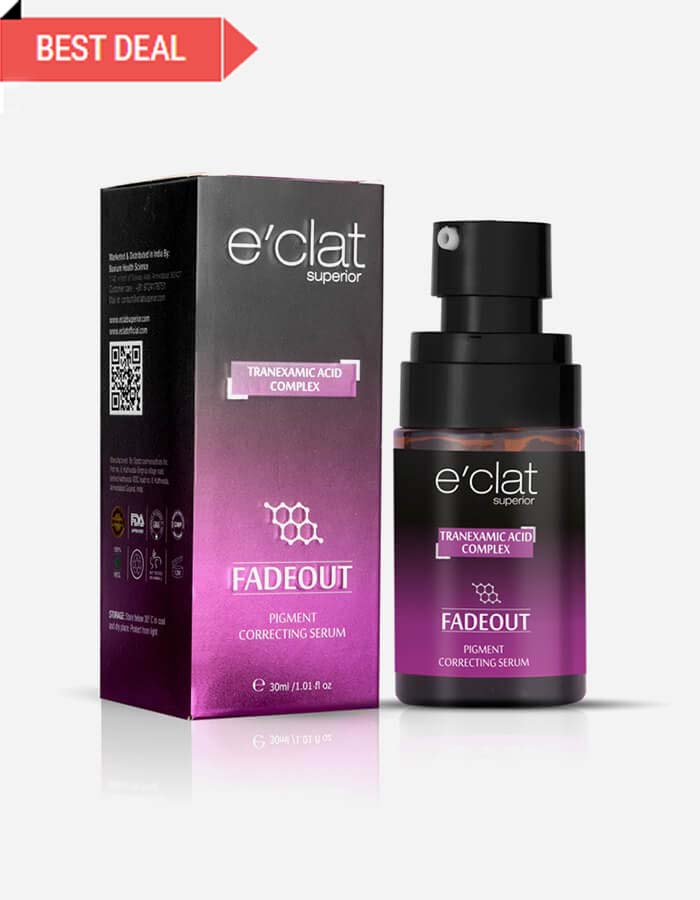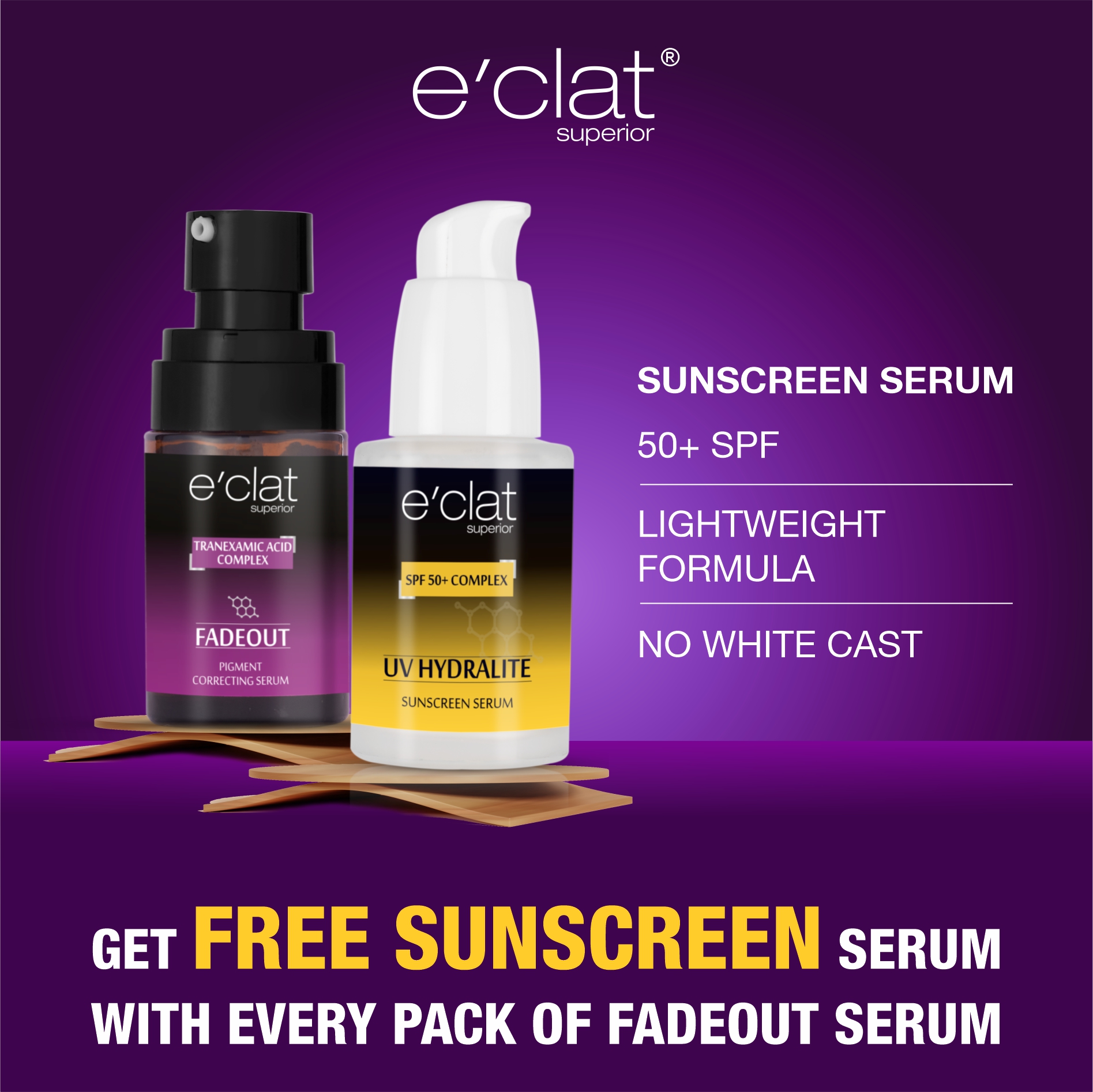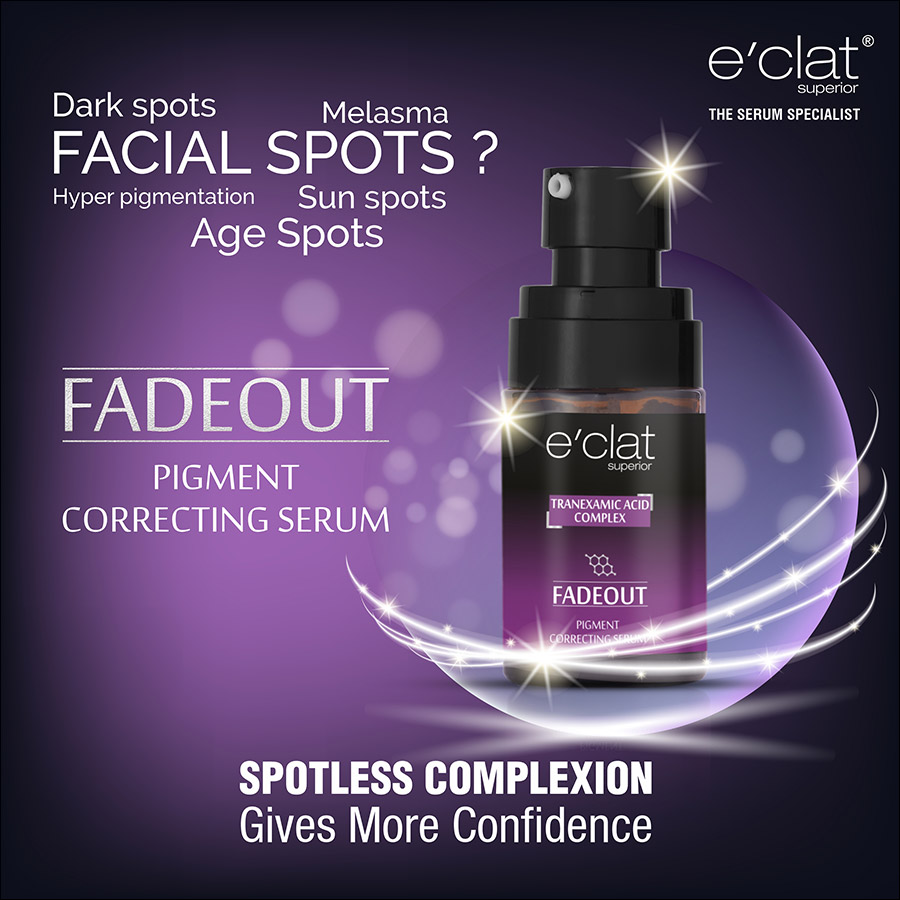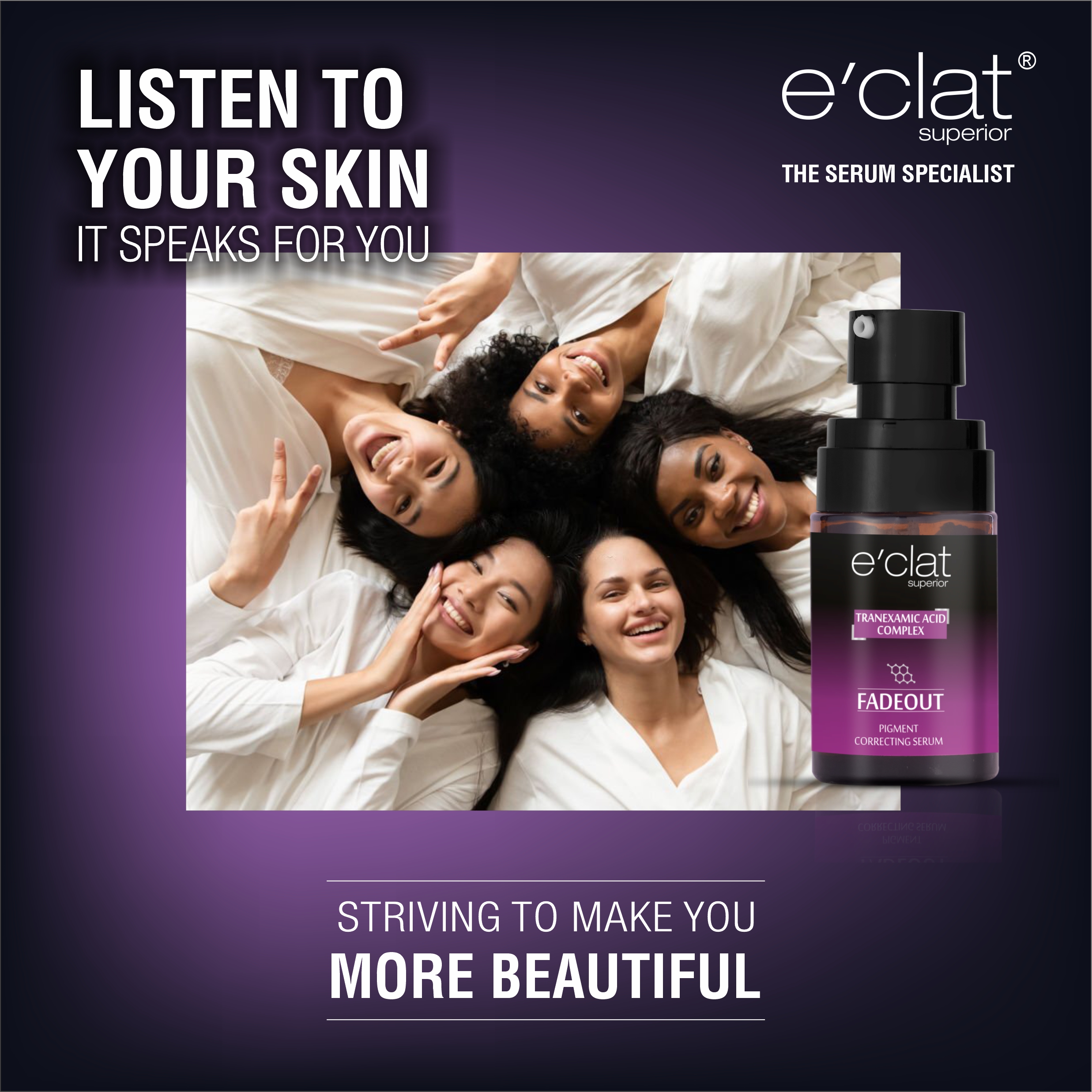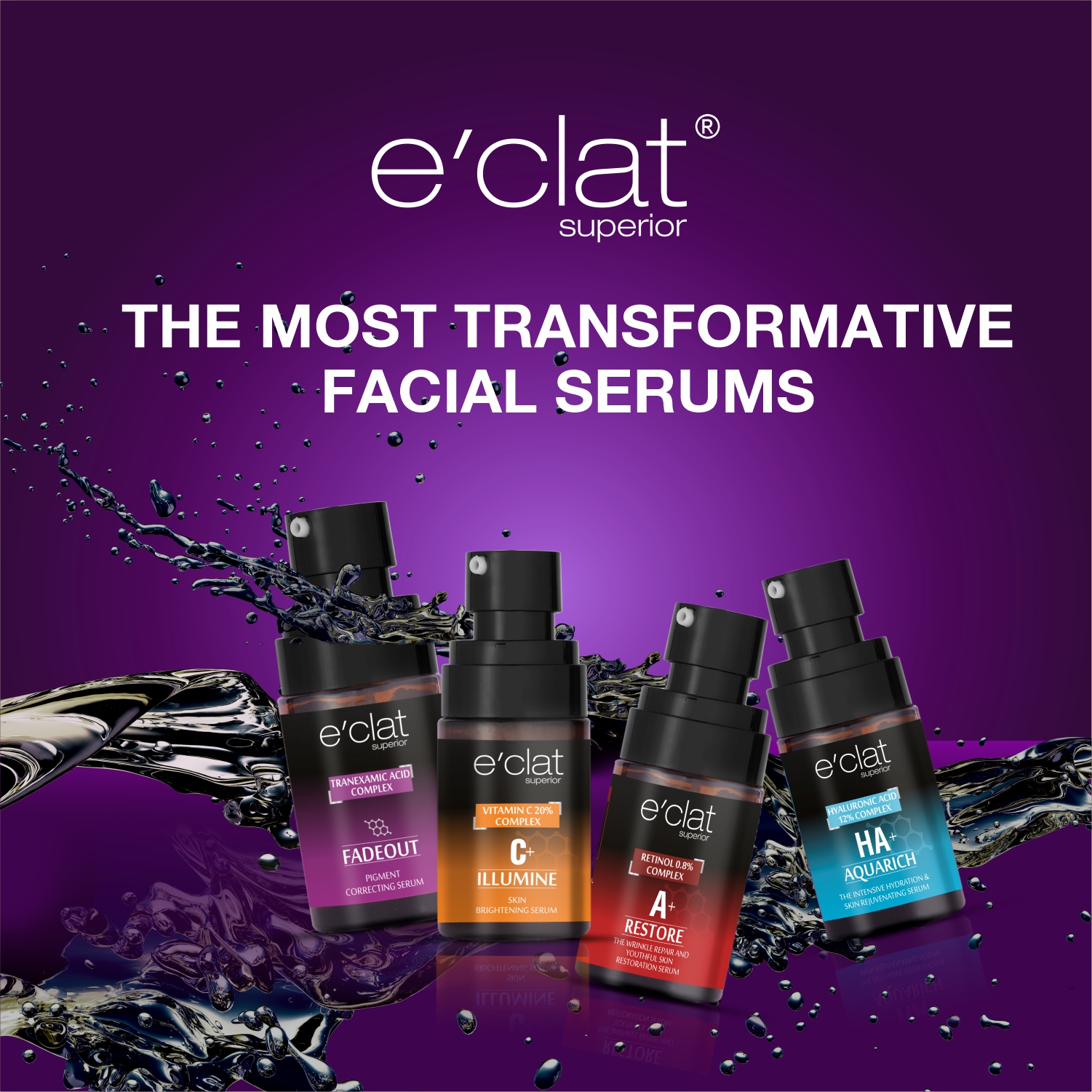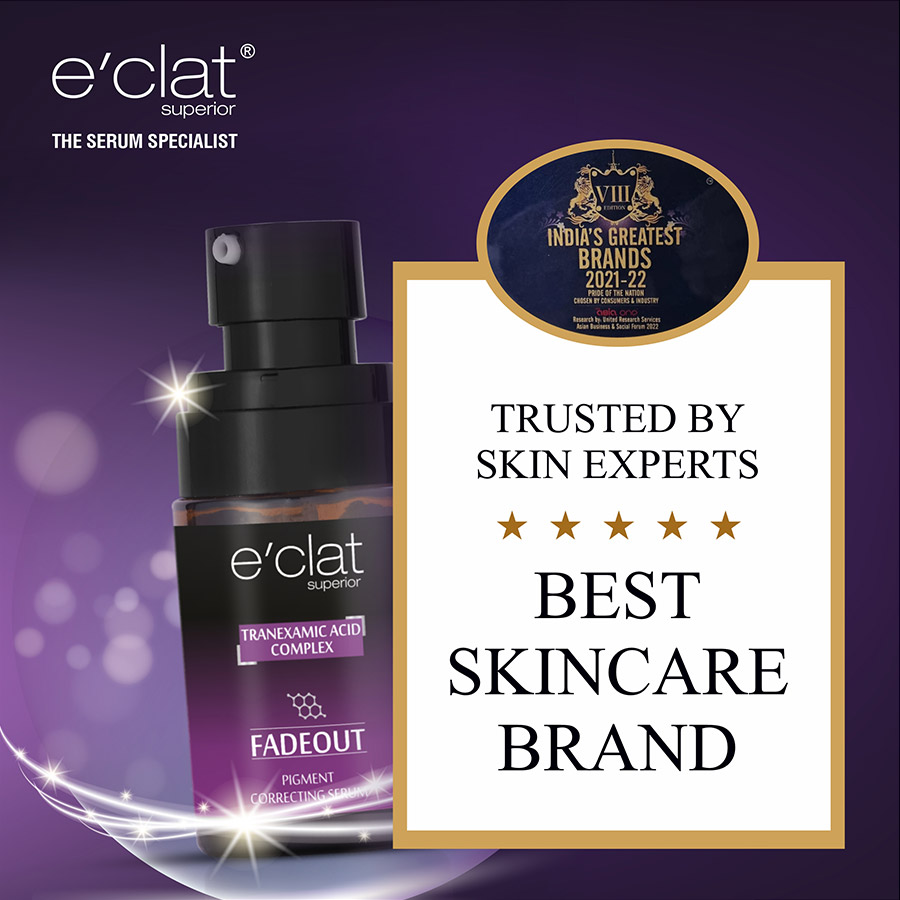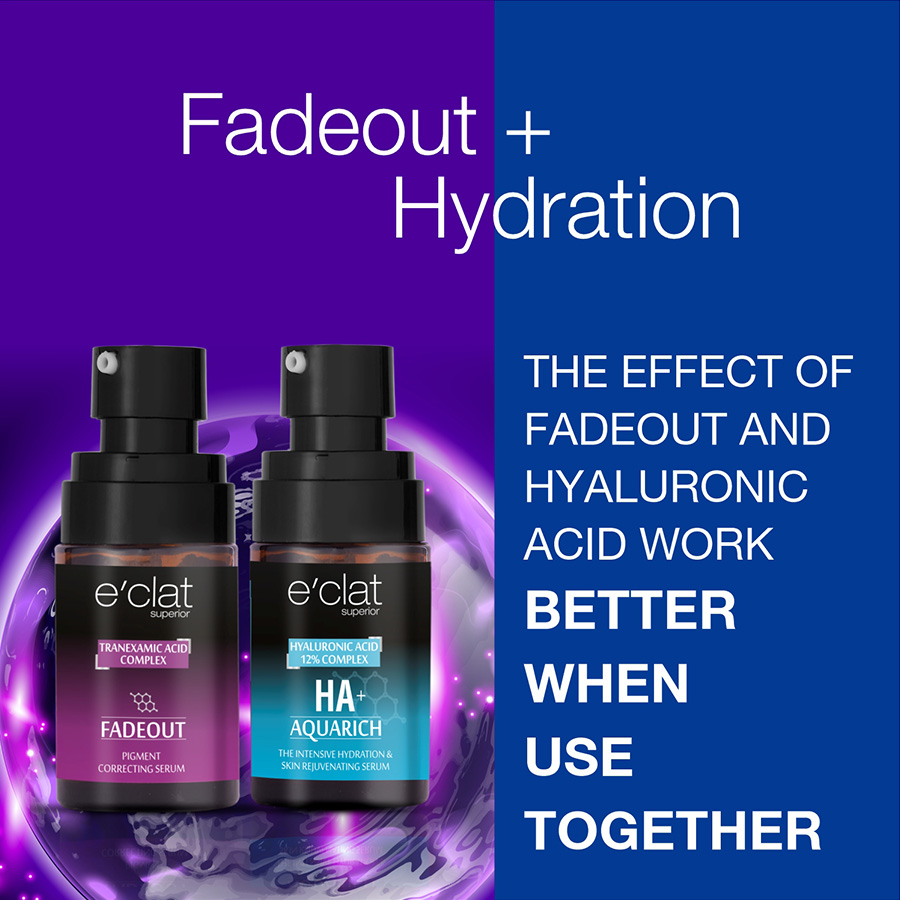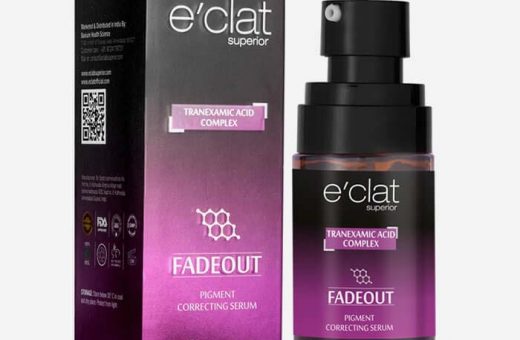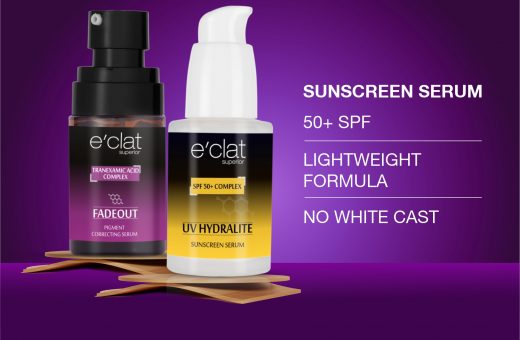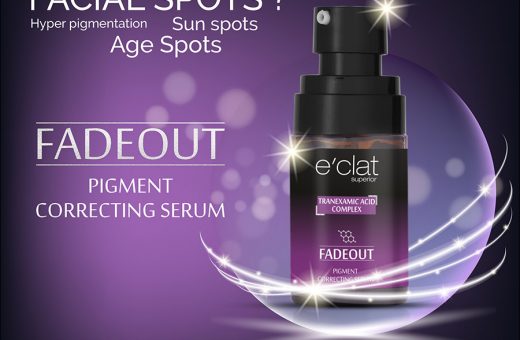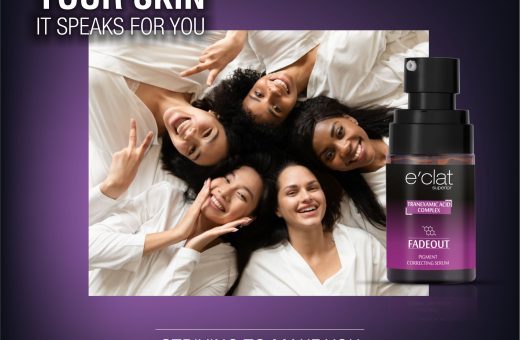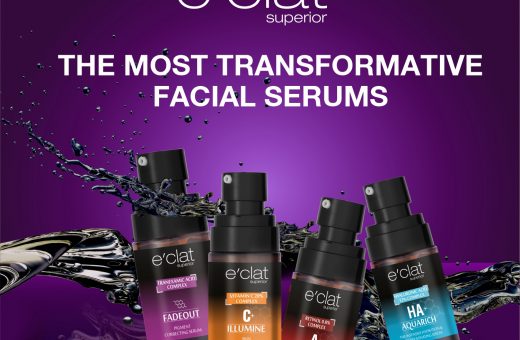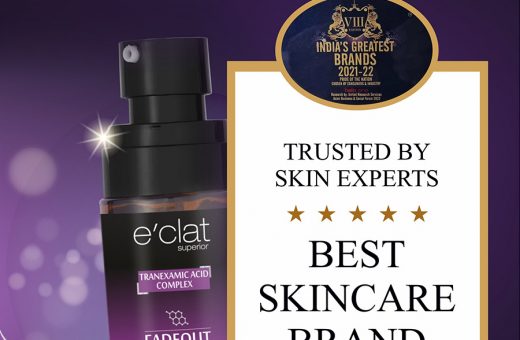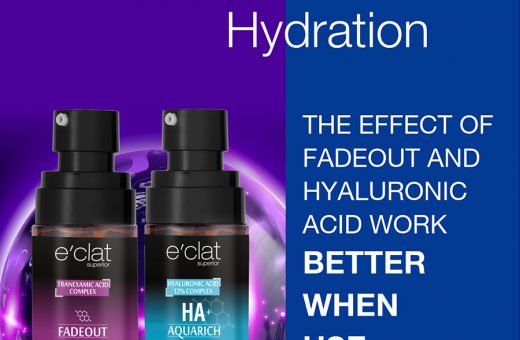 e'clat superior Fadeout – Hyperpigmentation & Acne Spots Correcting Serum – 30 ml
₹1,900.00
MRP (INCLUSIVE OF ALL TAX)
Mfg. February 2023
Fadeout Helps in :
•Remove Hyperpigmentation
•Remove dark spots
•Reduces melasma
•Removes acne spots
•Fades Dark Facial Spots
•Corrects Uneven SkinTone
•Skin brightening
•Radiant Complexion
•Remove pigmentation around mouth
Description
BENEFITS:
A ground-breaking formula that delivers a visibly dramatic reduction in the appearance of hyperpigmentation.
Brightens and evens the appearance of skin.
Targets Tyrosinase, the precursor which is involved in creation of melanin.
Its fast onset of action, once-a-day application, and a wide range of indications, this promising product
may be a revolution both in treatment of pigmentation and in skin rejuvenation.
Ingredients:
Azelaic Acid, Tranexamic Acids 1.78% Licorice Extract, 4-Butylresorcinol, Niacinamide 5%, Phytic Acid 5%
THE SCIENCE BEHIND HYPERPIGMENTATION
Melasma and Hyperpigmentation is one of the commonly reported pigmentory disorders in the Indian population.
Numerous therapeutic modalities are available. However, very few have produced complete satisfactory response. 4-n-Butylresorcinol has recently been introduced as a new hypopigmenting agent. It is a resorcinol derivative and acts by inhibiting both tyrosinase and tyrosinase-related protein-1.
The Safe And Effective Answer To Hyperpigmentation:
4-N-Butylresorcinol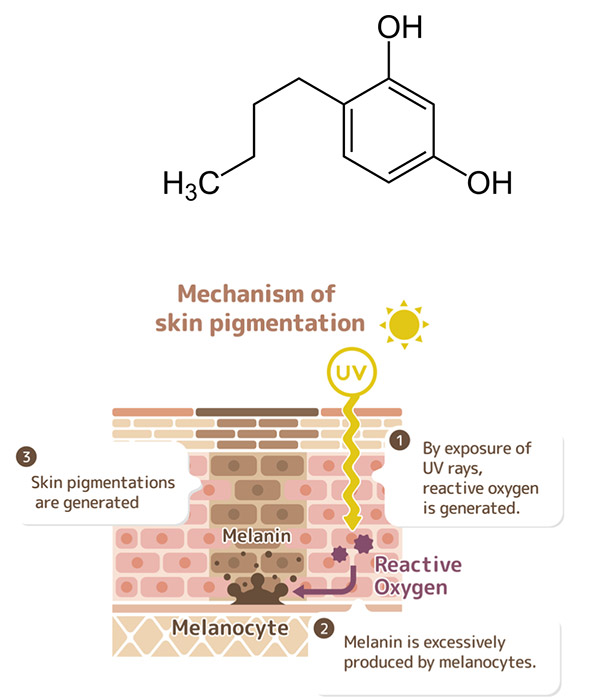 Hyperpigmentation has a number of different causes, is triggered deeper in the Dermis and can be difficult and require a long term approach to treatment to treat.
A relative new-comer 4-n-Butylresorcinol – pronounced "4 N beautal resorcinol" – (a.k.a 4nB, 4 Butylresorcinol or Rucinol). The first study on 4nB was published in 1995, but it wasn't until 2005 that another study was published, with the first trials on humans being published in 2007 . Since then, repeated human clinical trials have shown good results, low irritation, high tolerance and good safety results.
While there have been no head-to-head trials of 4nB and Hydroquinone the relative ability of common Tyrosinase inhibition ingredients to perform their core task has been studied. And when 4nB was compared to Hydroquinone, Arbutin and Kojic acid, it demonstrated superior tyrosinase inhibition ability.
Based on the evidence to date, in the search for an alternative to Hydroquinone, 4nB has been demonstrated to be the most effective depigmenting agent producing less irritation than the alternatives. But in the words of others taking into account its fast onset of action, once-a-day application, and a wide range of indications, this promising (4-n-Butylresorcinol based) product may be a revolution both in treatment of melasma and in skin rejuvenation.
e'clat superior fadeout out is a scientific blend of 4-nbutylresorcinol with
AzelaicAcid, Tranexamic Acid, Niacinamide, Licorice and Phytic Acid.
Furthermore, considering the fact that Indian skin is more prone to irritation with hypopigmenting agents. Clinical studies reveal the treatment is well tolerated by all the study subjects. No adverse reactions were reported throughout the study period.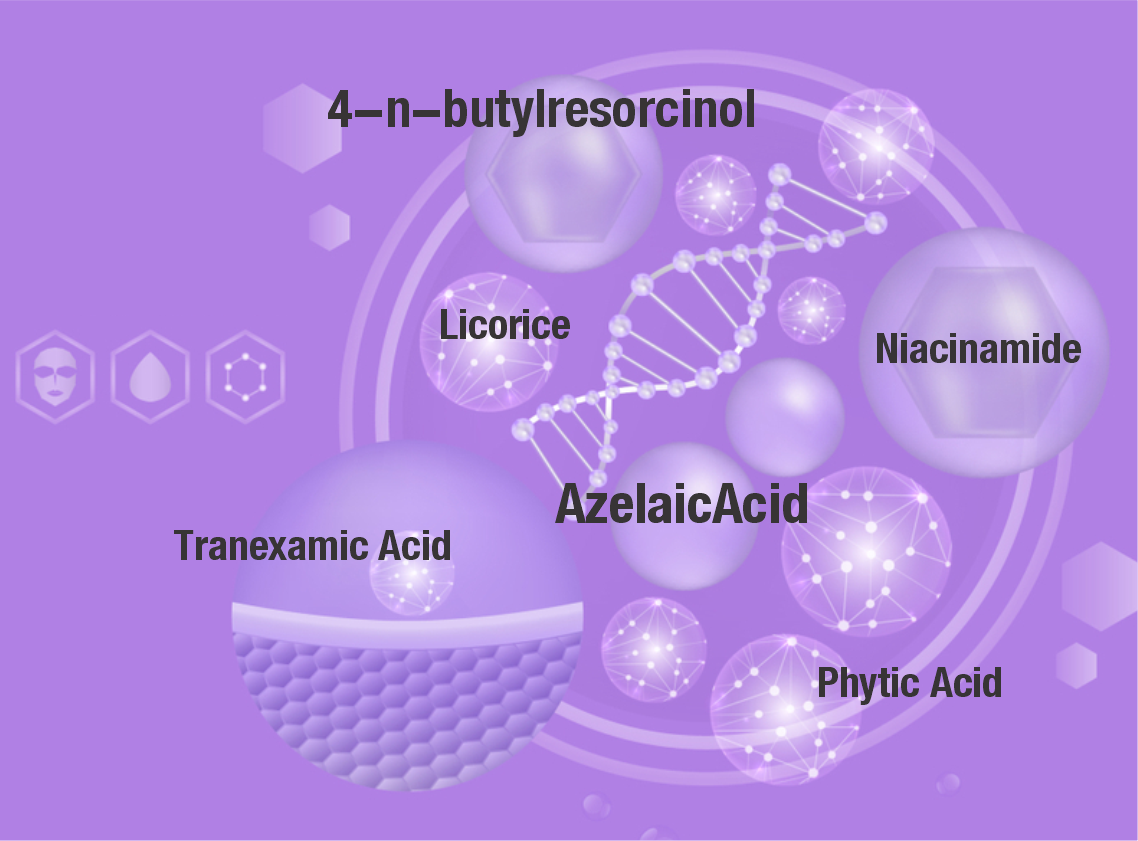 Azelaic Acid
Azelaic acid has been used for treatment of skin pigmentation including melasma and postinflammatory hyperpigmentation, particularly in those with darker skin types. It has been recommended as an alternative to hydroquinone.As a tyrosinase inhibitor, azelaic acid reduces synthesis of melanin.
Tranexamic acid (TA)
Tranexamic Acid is claimed to have whitening effects especially for ultraviolet-induced hyperpigmentation including melasma.
Niacinamide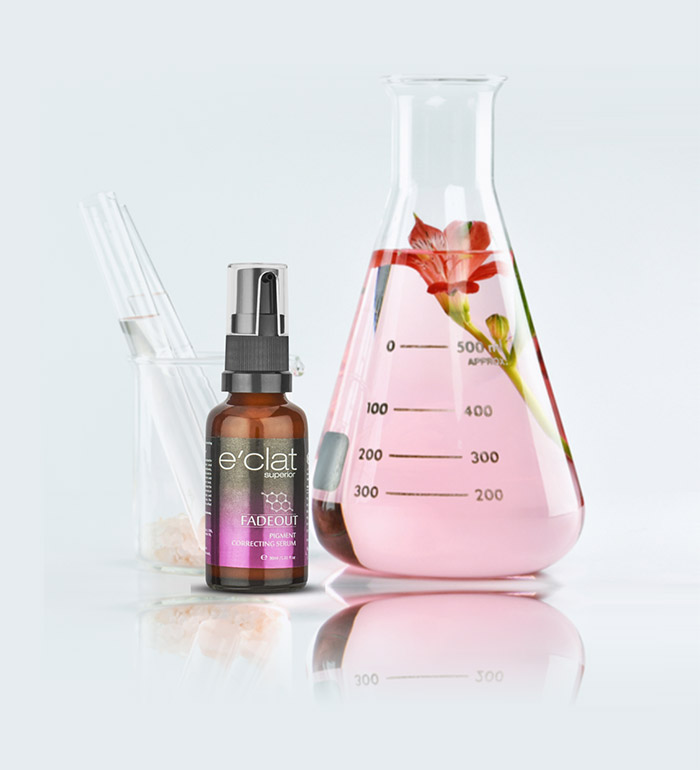 Furthermore, known as nicotinamide (3-pyridine-carboxamide) is the physiologically active amide of niacin (vitamin B3). Niacin is involved in the synthesis of the enzymes Nicotinamide adenine dinucleotide (NAD) and
nicotinamide adenine dinucleotide phosphate (NADP) required for cellular metabolism.
Study done on pigmented reconstructed epidermis (PREP) showed that niacinamide interferes with the interaction between keratinocytes and melanocytes, thereby inhibiting melanogenesis. It also modulates the protease-activated receptor (PAR-2) that is involved in the transfer of melanosomes from melanocytes to surrounding keratinocytes. Clinical trials using 2% niacinamide have shown that it significantly reduces the total area of hyperpigmentation and increases skin lightness.
Licorice extract
Licorice extract is obtained from the root of Glycyrrhia Glabra Linnera. Licorice extract improves hyperpigmentation by dispersing the melanin, inhibition of melanin biosynthesis and inhibition of cyclooxygenase activity thereby decreasing free radical production. Glabridin, a polyphenolic flavonoid is the main component of licorice extract. Studies have shown that glabridin prevents Ultraviolet B (UVB) induced pigmentation and exerts anti-inflammatory effects by inhibiting superoxide anion and cyclooxygenase activity.
Phytic Acid
Phytic acid is a milder AHA used for exfoliation and skin lightening. Studies have shown that in combination phytic acid with a glycolic acid work together to improve skin tone. The 2% phytic acid is soothing and allows for a lower pH formulation and exfoliation and lightening properties.
How To Use:
Use as part of your night skincare regimen.
Apply a thin layer to a clean, dry face, neck and décolleté. Can be applied all over the face.
Protect with Moisturizer or Night cream for additional skincare benefits.
Real Results
Feedback
Result of fadeout in two months! I cannot thank you enough for this gem product, I was on benzoyl peroxide treatment of acne when Is tarted us ing fadeout,benzoyl helped me for actives and fadeout really helped me with pigmentation , acne spots and scarring, JUST LOOK AT MY SIDE OF NECK, all spots are 90% already fades, still long way to go!
Feedback
Such a good morning it is. see the fadeout effects. Fadeout & Regenta do magic on my skin…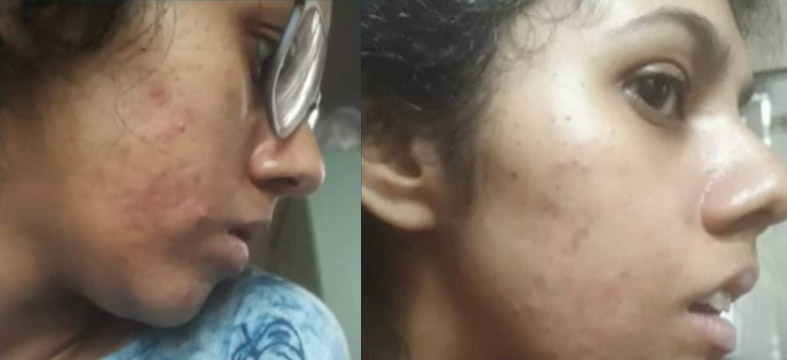 Feedback
Hey ! I am using eclat fadeout pigment correcting serum only. It works vry well.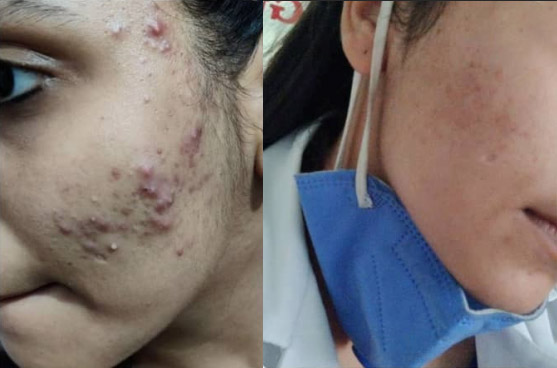 FEEDBACK
Eclat fadeout and Vit C serum just changed my skin. Still in process but am sooooo happy with the results!!! Even my mom loves eclat Vit C.