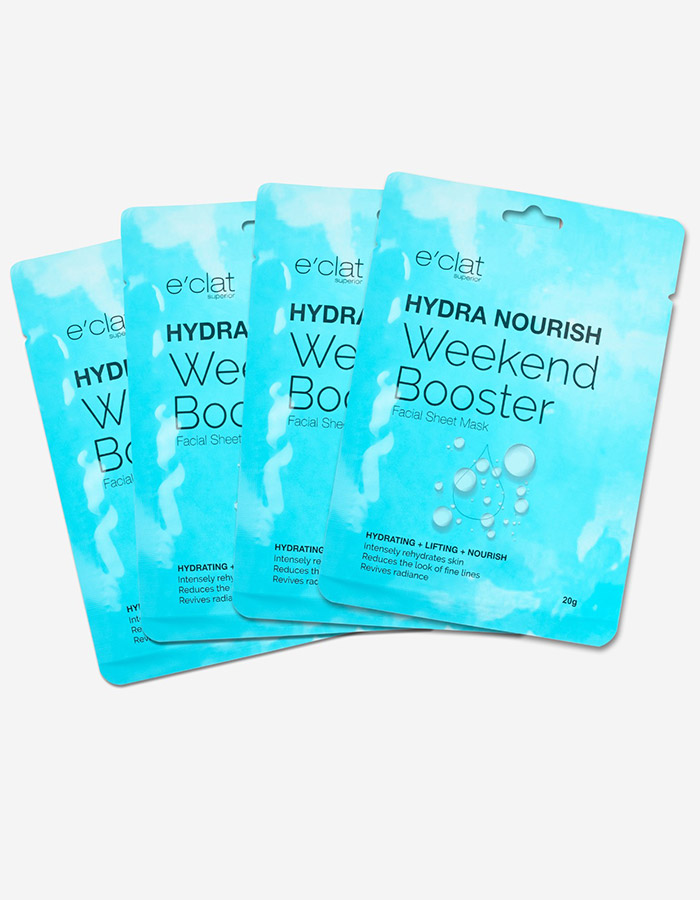 e'clat superior Hydra Nourish Weekend Booster Facial Sheet Mask Combo Pack of 4
₹840.00
MRP (INCLUSIVE OF ALL TAX)
Mfg. Sept-2021
e'clat superior weekend booster sheet mask is the radiance-booster – 20 g
If your skin feeling a little…dull at the moment? pigmentation, dryness or just general lack of vitality.
Which is why it's important to have weekend booster sheet mask help on hand that isn't tough on skin and is all about revitalisation and rescue.
These sheet masks – great for a little self-care and for hydrating ,nourishing and brightening your complexion.
These sheet masks are ideal for removing excess oil and banishing impurities.
Out of stock
Description
e'clat superior has always been passionate about laboratory specializing in skincare products. e'clat has always combined efficacy and well-being and our sheet masks are no exception. 15-minute Hydration and Nourishment home care treatments will not only provide the afore mentioned benefits, they will promote wellbeing and a sense of luxurious pampering within the comfort of your own home.
Say stop to thirsty, tight feeling skin with this Mask. This mask is infused with Aloevera, Hyaluronic Acid, Niacinamide, Arbutin and Licorice Extract that hydrates and plumps the skin almost instantaneously. e'clat superior sheet mask to revitalize and rejuvenate your skin to its natural radiance!