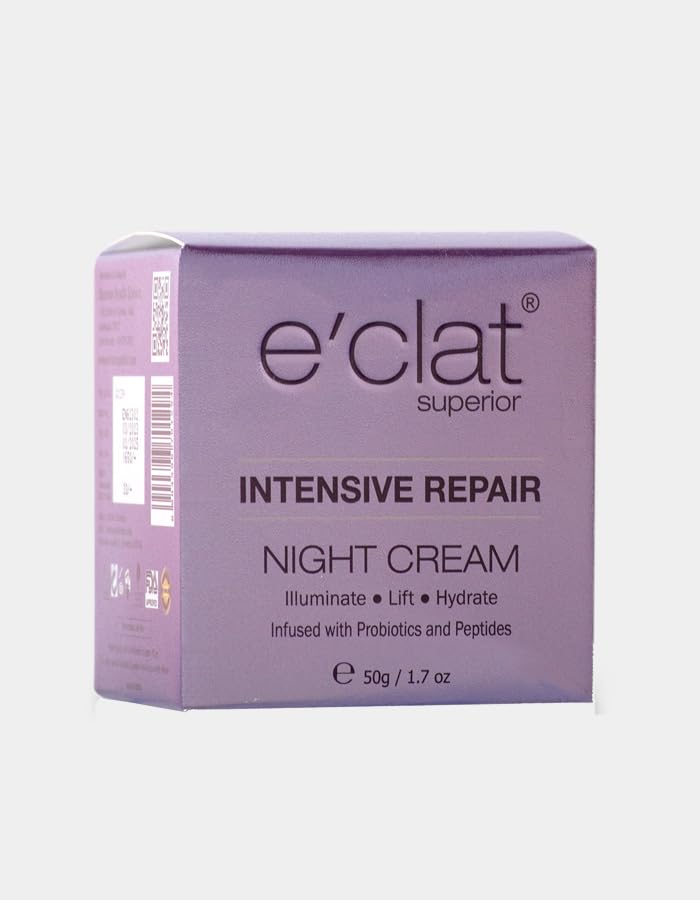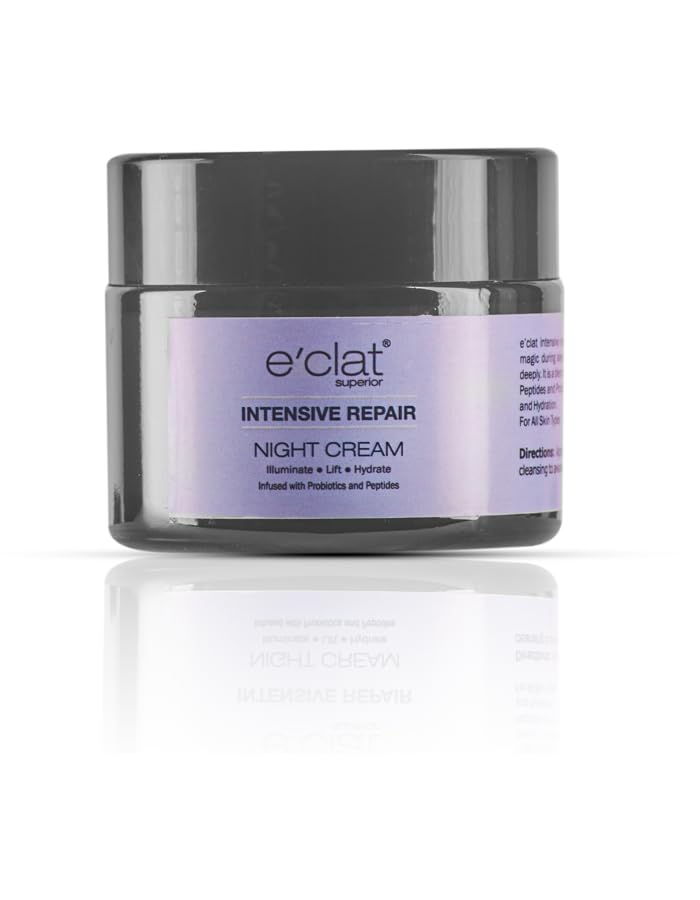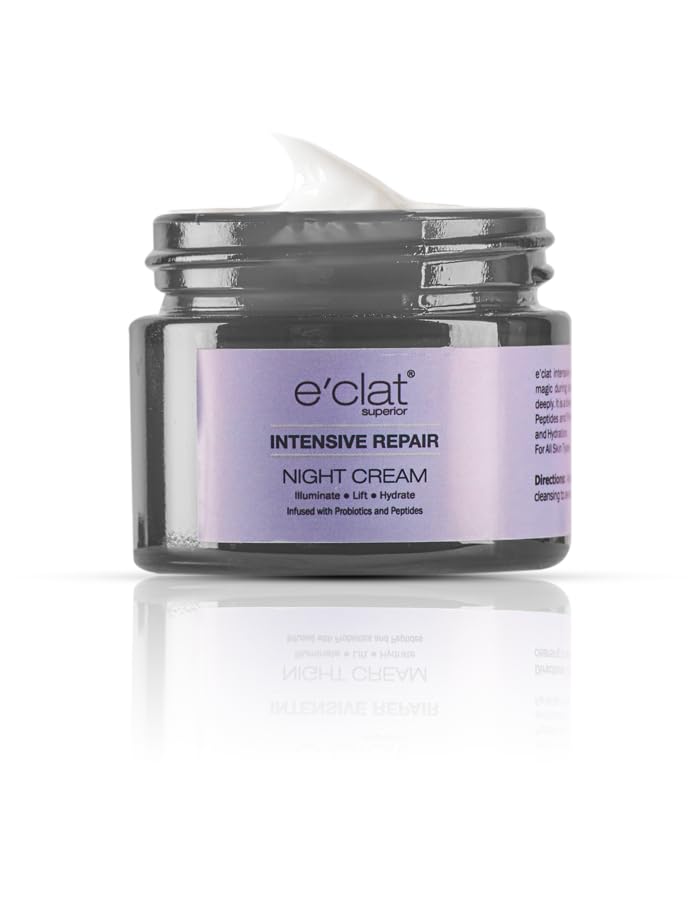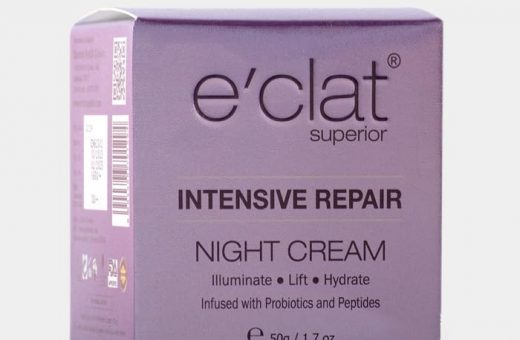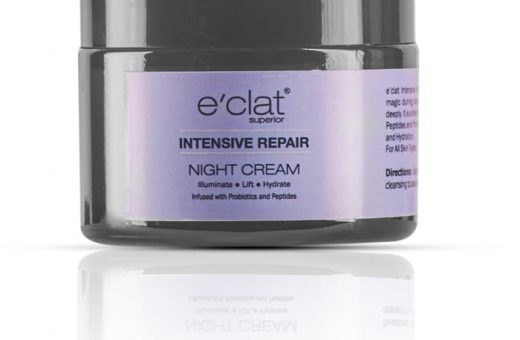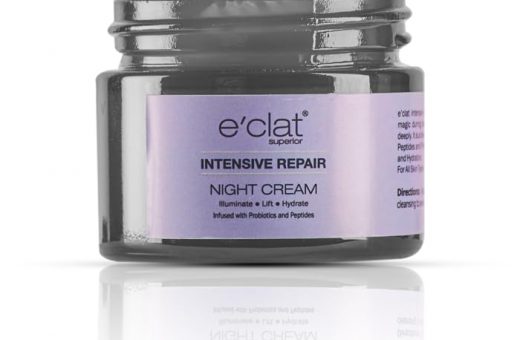 eclat Superior Intensive Night Repair Cream – 50gm
₹1,650.00
MRP (INCLUSIVE OF ALL TAX)
Illuminate ● Lift ● Hydrate
Infused with Probiotics and Peptides
Mfg. August 2023
Improve skin texture
Improve skin firmness and elasticity
Reduces wrinkles and fine lines
Hydrates and nourishes the skin
Description
DESCRIPTION OF NIGHT REPAIR CREAM:
e'clat night repair cream is one of the best night creams for glowing skin as it rejuvenates and revitalizes skin during sleep hours by repairing & nourishing skin deeply. e'clat night repair cream is a blend of Botanicals, Vitamins, Hyaluronic acid, Peptides, and Probiotics which helps in Illumination, Lifting, and Hydration. Each ingredient works to get a radiant and youthful complexion.
BENEFITS OF NIGHT REPAIR CREAM:
Reduces wrinkles and fine lines: Retinol is a powerful anti-aging ingredient that helps to reduce the appearance of wrinkles and fine lines.
Fades age spots: Vitamin C is an antioxidant that helps to fade age spots and brighten the skin.
Improves skin texture: e'clat Intensive Night Cream helps to improve the texture of your skin by reducing the appearance of unevenness and roughness.
Improves skin firmness and elasticity: Matrixyl 3%, which is an ingredient that helps to boost collagen production. Collagen is a protein that gives your skin its firmness and elasticity.
Hydrates the skin: Beta-glucan is a humectant that can help to hydrate the skin.
Improves skin barrier: Niacinamide helps to improve the skin barrier and protect the skin from damage.
Soothes irritated skin: D-panthenol helps to soothe irritated skin.
Nourishes the skin: Sodium hyaluronate and hydrolyzed collagen help to nourish the skin and keep it looking healthy and vibrant.
INGREDIENTS:
Water, Glycerin, Retinol, Beta Glucan, Matrixyl 3 %, Vitamin C, Niacinamide 4%, Probiobalance, Sodium PCA, Sodium acrylates Copolymer (and) Lecithin Acetyl Hexapeptide-3, Polysorbate 20, CCTG, Palmitoyl Tripeptide-1, Palmitoyl Tetrapeptide-7, Squalene, Liquorice Root Extract, Avocado Oil, Glyceryl Stearate (and) PEG- 100 Stearate, Butyrospermum Parkii (Shea) Butter, D-Panthenol, Terminalia Ferdinandiana Fruit Extract, Theobroma Cacao (Cocoa) Seed Butter, Vitis Vinifera Seed Extract, Aloe vera Leaf Extract, Hydrolyzed Collagen, Sodium Lactate, Hydrolyzed Wheat Protein, Sodium Hyaluronate, Polyacrylate-13, Polyisobutene (and) Polysorbate 20.
DIRECTIONS TO USE:
Step 1: Begin with e'clat glutathione facewash for a gentle cleanse to rid your skin of impurities and makeup residue.
Step 2: Apply serum such as e'clat vitamin C serum or e'clat niacinamide serum as per skin requirement. Allow the serum to absorb.
Step 3: As the final step, apply a proper amount of e'clat night cream to your face, gently massaging it in upward motions.