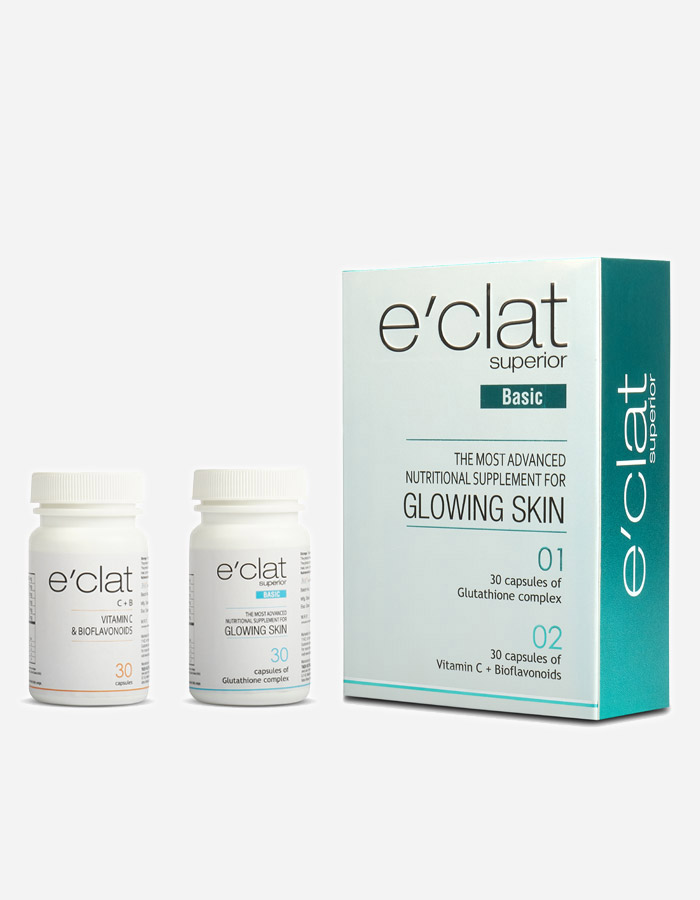 e'clat superior Basic Glutathione and Vitamin C Complex Skin Brightening Supplement
₹1,800.00
MRP (INCLUSIVE OF ALL TAX)
30 + 30 Capsules
Mfg. July-2021

The most advanced nutritional supplement for Glowing skin

The Most Trusted Skin Glowing Nutrient
Offers anti-aging and anti-inflammation benefits as well to further promote the youthful appearance of facial skin
Vitamin C that reduce the prominence of freckles, other sun spots, Hyper pigmentation and even melasma by acting on melanin production
Out of stock
Description
BENEFITS
The Most Trusted Skin Glowing Nutrient
Offers anti-aging and anti-inflammation benefits as well to further promote the youthful appearance of facial skin
Vitamin C that reduce the prominence of freckles, other sun spots, Hyper pigmentation and even melasma by acting on melanin production
Bottle 1 : Glutathione Complex contains 30 Capsules
Glutathione 350 mg that brightens the skin. Alpha Lipoic Acid is so impressive since it's required for cellular repair. ALA reduces under eye circle, puffiness. N Acetyl Cystien & Methionine role in antioxidant Production. Pine bark extract -PBE reduces Ultra Violet radiation damage protects the facial skin from photoageing and helps skin Brightening. Selenium – Keep us protected from the toxic effects of metals.
Bottle 2 : e'clat Vitamin C+Bioflavonoids 30 Capsules
Vitamin C 500 mg, Quercetin, Rutin and Hesperidine as well as Rose Hip and Grape seed extract promote good communication between skin layers. They also lessen the devastating effects of free radicals on the skin's collagen. Rutin aids proper absorption and function of vitamin C, one of the vitamins critical to maintaining collagen in a healthy state.